Why Taslima Nasreen's Comments On Moeen Ali Were Simply Abusrd?
Taslima Nasreen calls out Moeen Ali, claims he could've joined ISIS. We couldn't understand why!
If you're active on Twitter, you would have read or heard about Taslima Nasreen's really weird comment about English cricketer Moeen Ali.
If you haven't, the controversial author said: "If Moeen Ali were not stuck with cricket, he would have gone to Syria to join ISIS."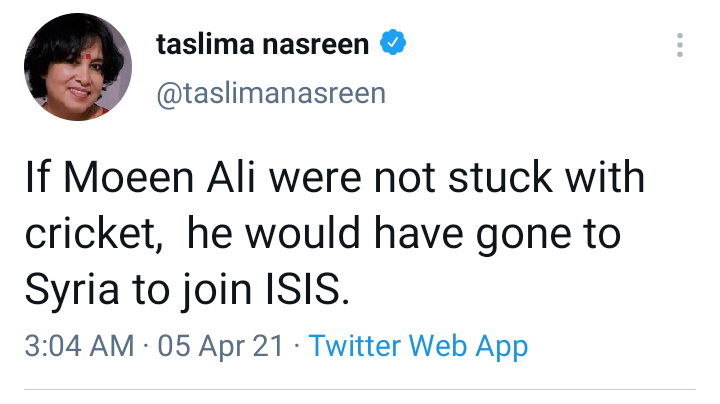 Now someone who watches enough cricket will obviously be baffled at this very sentence made by Nasreen and will jump on to the debate to claim that Moeen isn't exactly the kind of person to deserve this harsh treatment from a reputed author.
But those who have an understanding of Taslima Nasreen would know the author's way of writing against the oppression of women and specifically the treatment they get under the laws of Sharia or Islam.
From Muslim-Bigotry to English Cap – Moeen's Journey 
Team sports help create a cohesive identity and it was the same for the Muslim cricketer who was included in the English Cricket Team, a feat that was difficult to digest considering the history of Muslim bigotry in the country. 
Moeen Ali's journey from a Warwickshire player at the age of 15 to becoming almost a regular in the English International side was not easy. He was a victim of a hit-and-run incident when he was 13 and suffered from racial abuse at the age of 17.
Before being picked up for the T20 World Cup in 2014, Moeen had his fair share of ups and downs but never gave up. But he is not just a cricketer who has been optimistic about his cricket, he's a person who believes in a lot of charity and has, in the past, raised his voice for the victims of the Gaza conflict. He once wore wristbands (saying 'Save Gaza' and 'Save Palestine') during the Test series against India in 2014 and the ECB supported him back then saying that his "protest was on humanitarian grounds". 
Islam and Women – casting a shade on Moeen Ali
Many believe it was Moeen Ali's views on women and the treatment of women that made Taslima Nasreen take offense and write what she wrote. While that's understandable given the ardent followers of Islam are not particularly known to let women have secular rights as they enjoy themselves. 
Without commenting further on a religion that I personally cannot endorse or even diss, I tried to find out what's wrong with Ali and whether he said anything in the past that should upset someone enough to brand him an ISIS probable! 
FAKE NEWS FAKE NEWS & MORE FAKE NEWS
But despite an hour of googling Moeen Ali's articles and looking at his interviews, the only information that I had was that Moeen Ali never even looked at a woman first until she had a conversation with him. He is not someone to eye women like men usually do let alone abuse his faith in Islam to order women into submission.
So if you're here to look for something spicy and fishy, there's nothing mate but a lot of bullshit coming from the supporters of Nasreen, who, by the way, was herself on the backfoot after her first tweet received a lot of backlash from people across the globe. This included English cricketers like Jofra Archer and Ryan Sidebottom. 
Haters know very well that my Moeen Ali tweet was sarcastic. But they made that an issue to humiliate me because I try to secularize Muslim society & I oppose Islamic fanaticism. One of the greatest tragedies of humankind is pro-women leftists support anti-women Islamists.

— taslima nasreen (@taslimanasreen) April 6, 2021
Not about misogyny and orthodox men Taslima
Nasreen may have passed in making some woke feminists believe that it was necessary to call someone an ISIS probable for his views on his religion but for people reading this, there was nothing orthodox or misogynistic about the way Moeen Ali carried himself on and off the field.
Neither the choice of not representing alcohol on his jerseys nor the length of his beard makes him a target. And sorry to say, Taslima Ji, you are just looking foolish and desperate here. 
Why Moeen Ali's character assassination does nothing for women?
While a lot of my social media is abuzz with people arguing about Moeen Ali's views on women and his religion, there's no substantial evidence to claim that he's on the wrong side of affairs. I was personally rebuked, called a Brahmin Comrade, for failing to recognize Taslima's efforts and for backing a person who happens to be a cricketer. 
Well for them, I'd like to reassure my stance on casteism, religion, and other bigoted obsessions of the world. I am very much aware of the patriarchal turmoil this society has suffered from in the past centuries but again calling out someone to be a terrorist if not a cricketer has nothing to do with liberating women. Nothing at all. 
So what compelled Taslima to tweet this, we might not know! But did it cast any difference to how women are oppressed in every religion? No! So what's your argument, Ms. Nasreen?
Ali – a man humbly grounded & rooted to his country and religion
As someone who goes about his regular business without giving in to society's pressures, Ali is an inspiration for a breed of non-white cricketers in England. A religious Muslim, Ali wears his beard as a luxury, prays in the dressing room, fasts during five days of Test cricket, and is a symbol of something bigger than Cricket. 
To call him someone who could have marched on towards the ISIS brigade if not for cricket is an utterly distasteful and shameful comment by a woman who always seems to be on the edge with her choice of words. Religion is a complex topic we save for some other debate but to call Ali, what he was called by Nasreen, is as evil as someone racist or Islamophobic in the West.