From Godhra in 2002 to Ganga in 2021: Modi's Covid19 Pandemic
As India's Prime Minister goes about his mega Central Vista project, dead bodies floating in the rivers showcase what exactly he and his government have been missing.
India, a country of 250 million people approximately, is faltering as hundreds and thousands have perished due to the second wave of the deadly Covid19 virus. Despite a record-breaking surge in the last few months, the government's lackadaisical attitude has done more harm than it could ever imagine. Such is the trauma, during this pandemic, that even the most ardent BJP supporters have now spoken against their much-favored ministers and parliamentarians.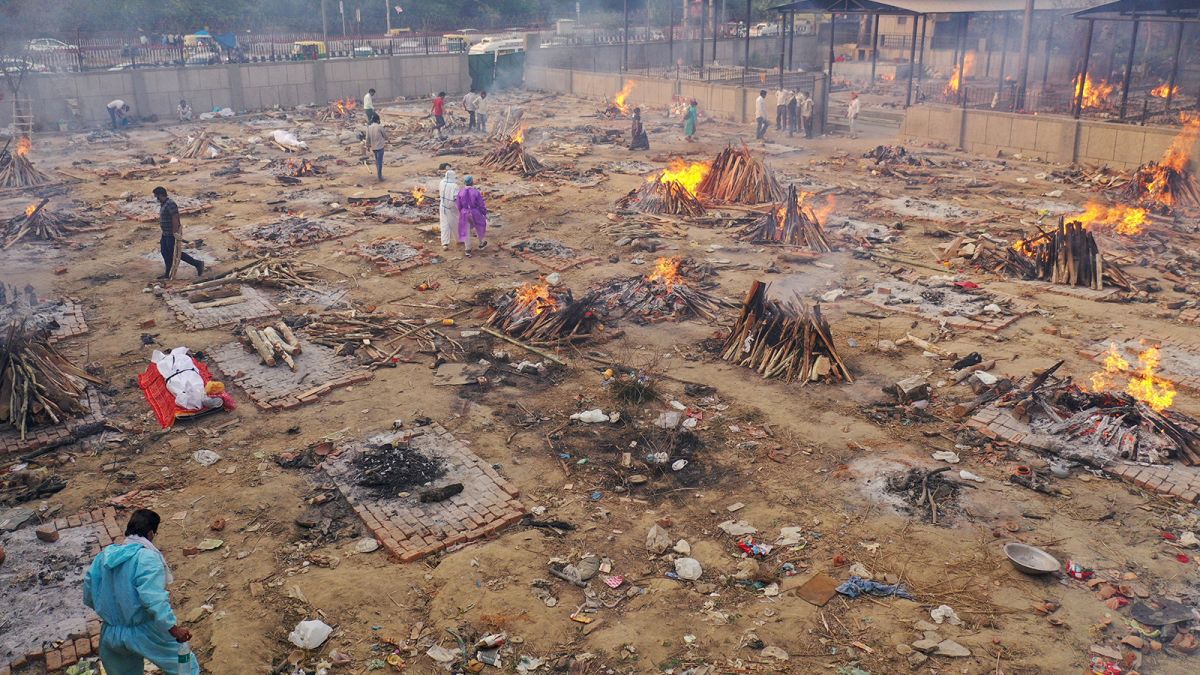 Why are Indians helpless? 
After voting on hardened religious and caste-based political values, India finds itself suffering from all sorts of problems during the second wave of the Covid19 pandemic. Where, on one hand, the recently concluded Bengal elections were the focal point of attraction until May 4, the Kumbh Mela – organized against all sorts of protests – has also added to the rising number of cases in the country. 
More than 3 million had gathered in Uttarakhand for the 'Shahi Snan', and more than 70% tested positive, taking the surge beyond control. With a lack of oxygen beds and medical aid, these super-spreader events like the Kumbh, and the mega rallies organized across the country, took us beyond the breaking point. 
Facilities succumbed due to the rising number of infected patients and the shortage of tankers – to transport oxygen – took away many lives in despicable fashion. What makes this situation even more worrisome is the fact that the government, rather than taking a proactive measure in 2020, waited until the situation was beyond anyone's control. Now, in 2021, with more than just 3% of the country's population getting their vaccination shots the war against Covid19 is far from over.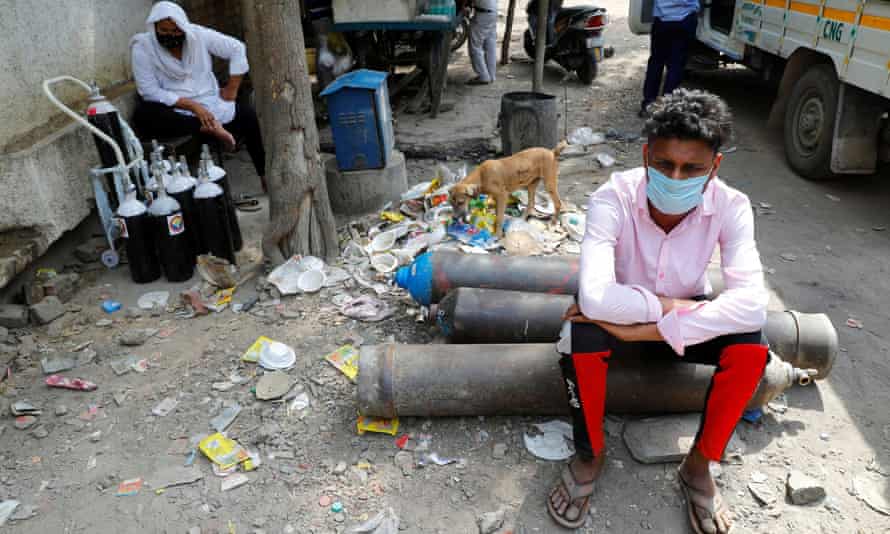 Lack of oxygen tankers, beds, medical facilities, and even doctors caused more than 2,50,000 people to die from Covid19 related complications in the past year and the unofficial number is supposedly 5 times more than the official count given by our Health Ministry. 
Where are our ministers?
Starting from the north – Uttar Pradesh CM Yogi Adityanath told police officials to arrest anyone talking about oxygen or cribbing about the current situation in the country. He also ordered officials to confiscate property of any such miscreant found over the internet. This was after over 14 people died in Aligarh after oxygen was snapped off during their treatment. 
If UP CM made little sense, the Uttarakhand CM Tirath Singh Rawat believed the Kumbh Mela will wash away this Covid19 pandemic and that it should continue with minimum restrictions. If his ripped jeans remark wasn't enough, the stupidity he promoted during these testing times boggled my mind.
Prime Minister – or shall we say BJP representative – Modi was hell bent on campaigning in Bengal and his deputy, Amit Shah, had promised 200+ seats in West Bengal. Sadly, the 200+ digit came true but for the Trinamool Congress and all the hefty arrangements fell short as the BJP lost in Bengal as well as Tamil Nadu & Kerala.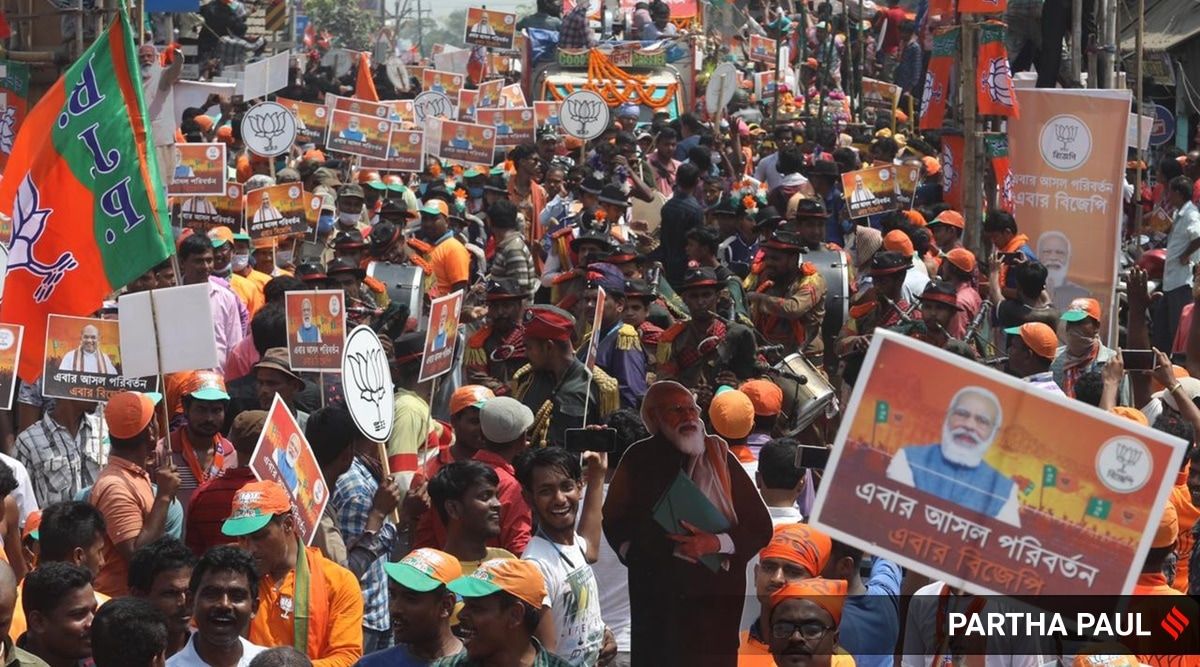 While the elections and the Kumbh event saw India's total tally of Covid cases cross that of any other country in the world, there was some sarcasm left in this great Indian tragedy!
The act that made even bhakts search for logic
There comes a time when you realize and feel the bubble you're living in. Sadly, when that time comes not everyone has the energy or the ability to initiate damage control. The ardent followers of PM Modi and the BJP have reached that saturation point. 
After certain Australian, and English, magazines critically wrote about Modi's incapable actions during the pandemic – the ministry criticized and called for an action on such reports. This was years after we had once covered visible slums to welcome the-then US President Donald Trump. This was also after our Bollywood celebs and cricketing legends condemned a tweet by Rihanna and told the world it was our internal matter.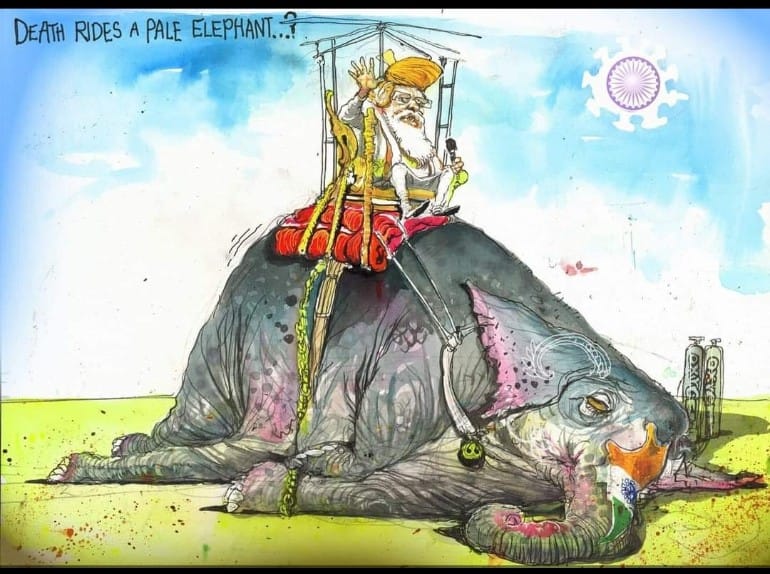 Few months later, who would have wondered that we would see corpses in rivers, on the streets, and cremation grounds being full to the brim. This time, the world was witnessing from all ends and our, then, proactive Bollywood and Cricketing legends were nowhere to be seen. Even the IPL got cancelled but not before a few Aussie cricketers exposed the true nature of India's handling of the pandemic. 
The great divide 
If you're a cricketing icon in the country or someone who – despite deserving jail time thrice – is still cribbing about his new-release not running in theatres, chances are you're still in that sweet bubble of yours. Because whether it is about vaccines or staying at home, you get to all of that with your big bucks! Yes, that's what matters in India right now and this is not even exaggerating stuff. 
The rich – have online classes and courses, the poor – nothing. 
The rich – can find a slot to get vaccinated, the poor – waiting.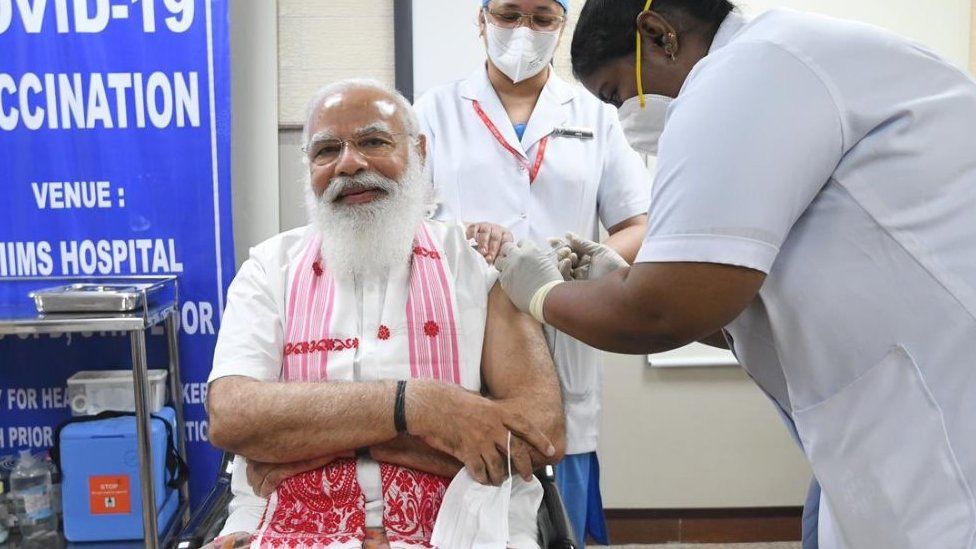 The rich businessmen – grew their incomes by crores, the poor – still dying. 
The rich – is safely at home, the poor – have to work and are forced to die.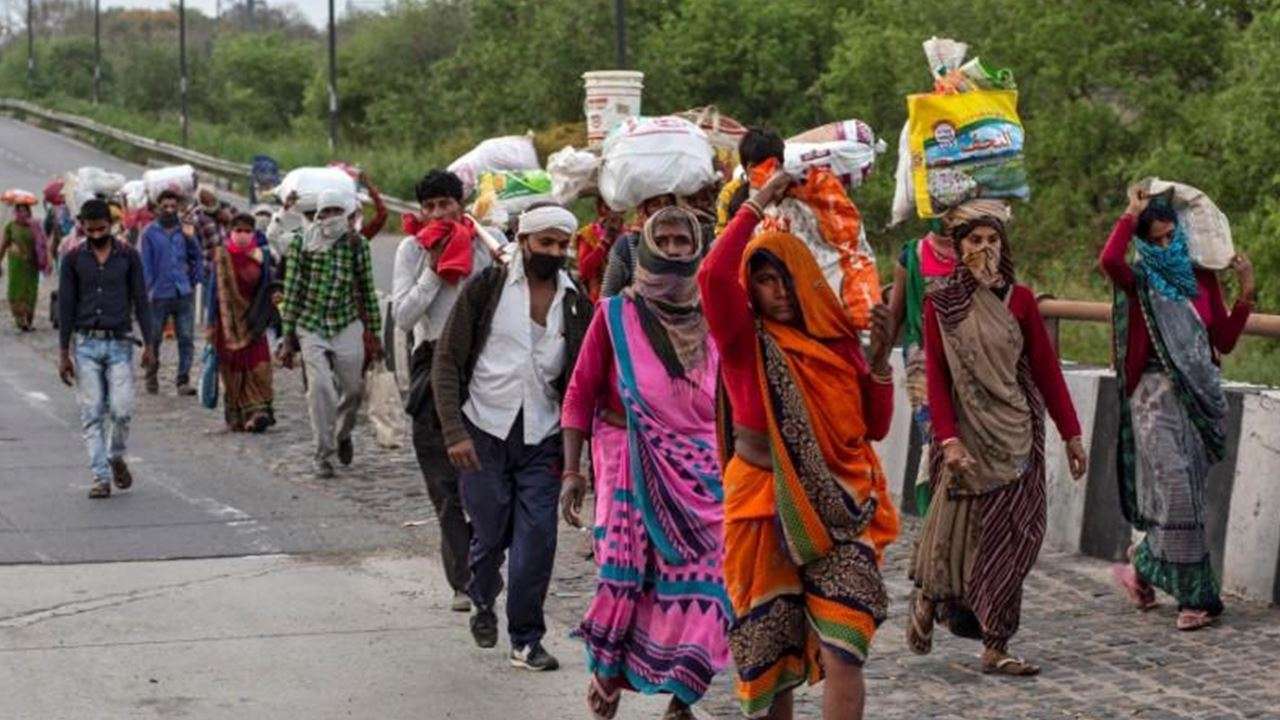 The elite – hold thali bajao and diya jalao ceremonies, the poor – is hoping for a day's bread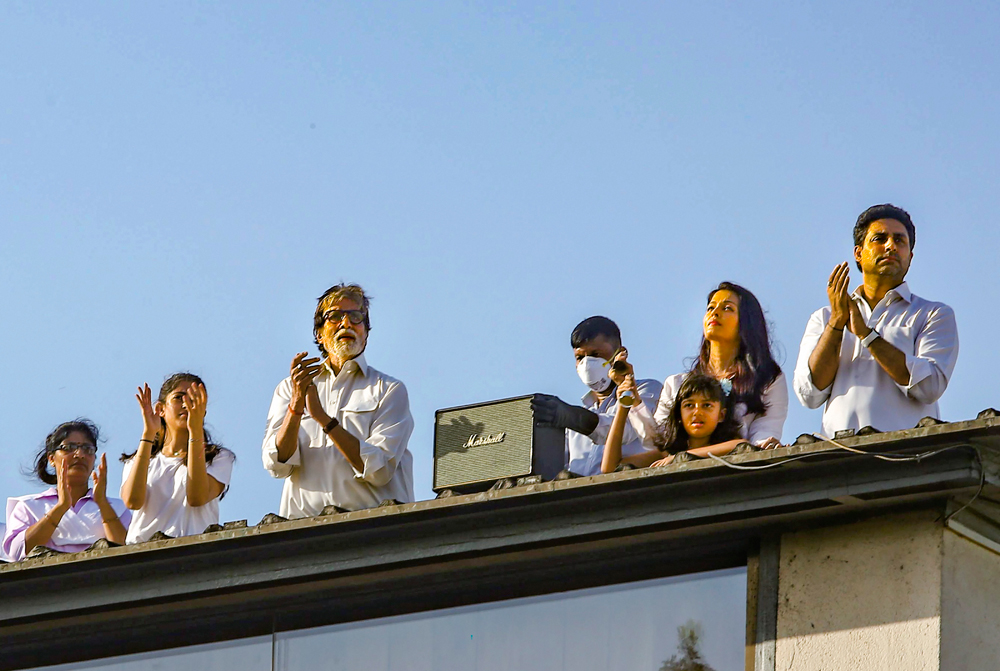 In India, only the business tycoons, actors, cricketers, and politicians are safe! Period. Last month, more than 3000 primary school teachers were forced to take up election duties during the Uttar Pradesh Panchayat elections. A month after the elections are over, 700 have already passed away due to Covid19 and there was no oxygen or medical facility available in those villages for these teachers. 
Similarly, where our country's middle-class is succumbing due to low-income and loss of jobs the elite play cricket with superb round-o-clock facilities, a secure bio-bubble, and a team of expert doctors and ambulances ready in case of an emergency. This is the same country where people begged for beds and oxygen on Twitter before dying hours after posting for help. This where a woman was seen giving mouth-to-mouth to her dying husband on the road. And this, where thousands of beds are vacant but available only for VIPs. 
From Godhra in 2002 to Ganga in 2021
Amid the pandemic the only notable thing, that was positive, was the removal of Kangana Ranaut from Twitter. Now you can argue why her account was disabled permanently, what I and many others noticed was the foolish mention of the '2002 era', which caused her to lose her account. Now, even as a Modi supporter, if you're to keep Modi's built-up PR intact you cannot connect him to the 2002 riots, can you? That's what the foolish actress did and had to bear the consequences. 
Why I talk about this here? Because for the self-centered Modi it might be a great journey from 2002 to 2021 but not many things have changed. He was an ignoramus sycophant then and he is the same even today. Bodies burnt around Gujarat then in 2002 and now we see that in the entire country barring the Southern and North-eastern states, who are blessed to be under any rule but that of the BJP. 
As Prime Minister Modi goes about his lavish Central Vista development project and has invested 28000 crores into it, India receives donations from countries like the United States, Britain, Singapore, Malaysia, the Middle-eastern countries, and even China. Australian cricketer Pat Cummins, Ethereum founder Vitalik Buterin, and a host of celebrities from across the globe have contributed heavily for oxygen and other requirements in the country. 
What is there to be understood is how India failed to meet the demands of its sick and dying despite the PM Cares Fund being set up for a day like this. Even the various loans the country's leadership secured from the World Bank seemed to have disappeared. The Covid19 relief package, announced by our Finance Minister Nirmala Sitharaman in March 2020, has also miraculously disappeared. But despite the shortcomings in hospitals, the central vista project has been called an essential activity as the 100-year-old Jamun trees around Rajpath and India Gate were chopped down for newer construction activities.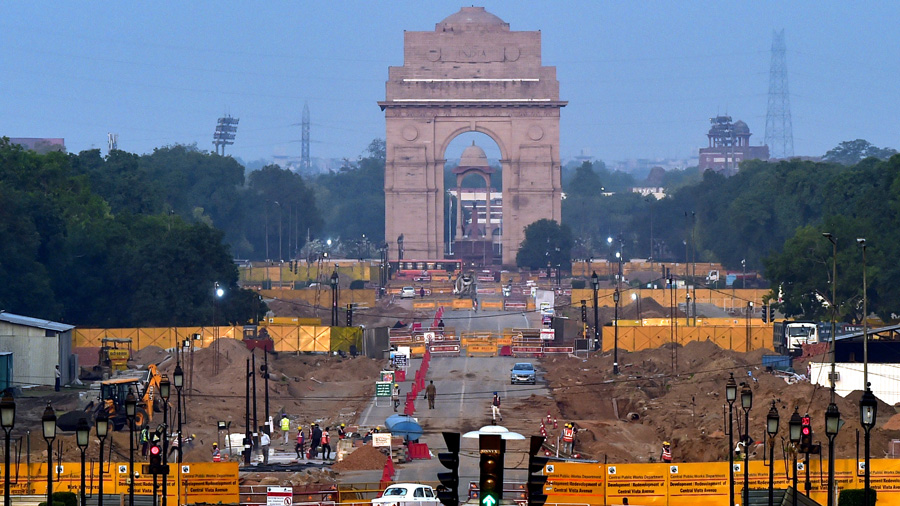 Finally, even the dumb have spoken but isn't it too late?
Actors like Anupam Kher, who were ardent supporters of the ruling party, have now condemned the government and said it is time to take strict actions rather than focus on image building. But to them, my question is very simple. Why now, when the dead have taken the streets and the rivers? 
Yamuna river, near Buxar in Bihar, saw close to 100 dead bodies being washed up. 3 days later, over 40 dead bodies – of Covid19 victims – were found floating near Ghazipur in Uttar Pradesh. For the first time in my life, I am seeing death so closely. Every person on my contact list has lost someone or the other in his/her family and yet our so-called representatives indulge in lavish dinners, meetings, and over-the-top constructions. 
To those reading this. I have one request. Next time, in 2023, vote for development, hospitals, doctors, and more facilities rather than voting for a candidate of your caste, religion, or party of interest. Because remember, when your country was burning and people were dying left and right, your chowidar was busy doing his PR and signing millions of your money away for his new house. Remember!